This is Bernds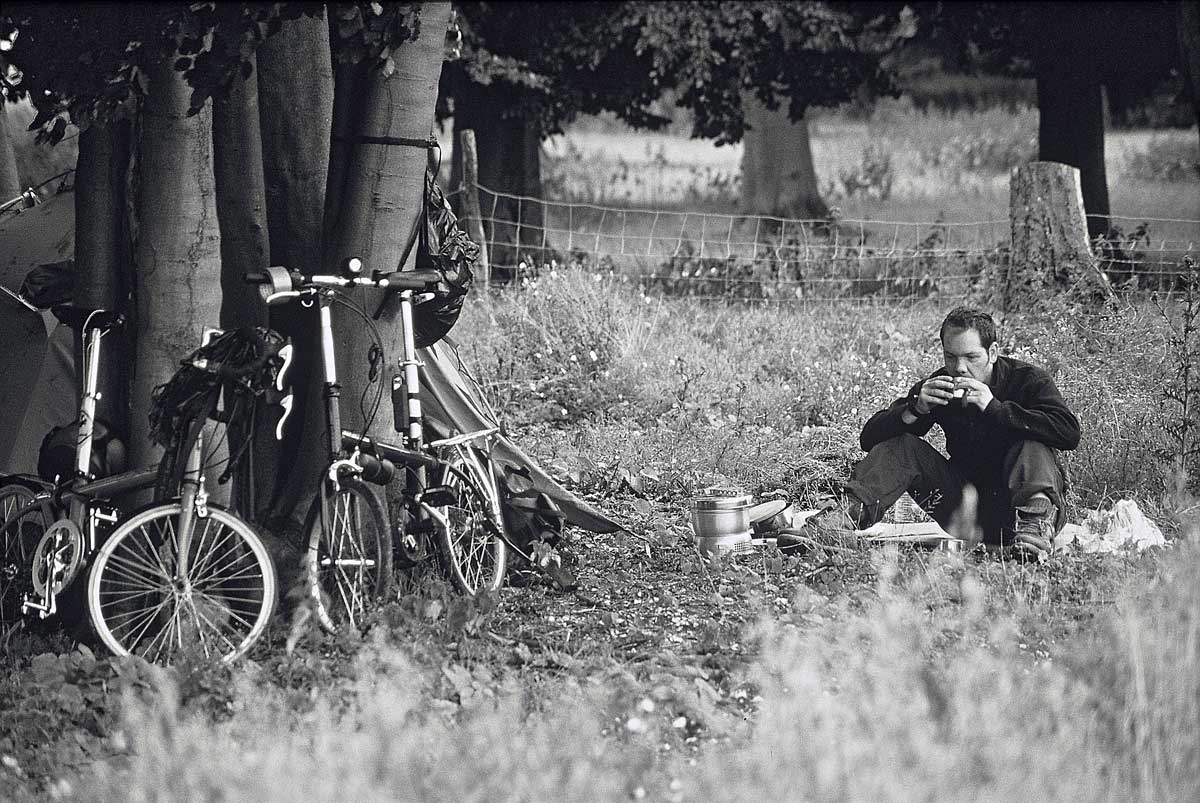 This is Bernds
We've been designing, developing and producing folding bikes since 1991. And from frame to fork to drive train, our ideas, precision and craftsmanship are built into every single bike we make. You can see it, and you can feel it. Thomas Bernds built his first tandem out of two older bikes when he was just eight years old. And the fun and energy he got out of that project have stayed with him ever since, leading to one new development after the other. That's what Bernds is about—and it's what makes every Bernds bike a Bernds.
"Hey, this rides just like a big one!"
Our bikes are the result of consistently rethinking what would seem to be hard-and-fast principles of bicycle construction. And from the very beginning, we've been possessed by an ambitious goal: to build the most compact all-rounder. Literally.
20″ wheels: smaller, lighter, more stable
28″ wheels: an anachronism
Why, these days, do almost all bikes use 26″ and 28″ wheels? During the bicycle's early phase of development, in the late 19th century, the first design to prevail was that of the dangerous unicycle with its gigantically dimensioned wheels—because those made it easier to deal with the uneven surfaces of that era's badly maintained roads. It was the development of hollow tires inflated with air that finally made possible the breakthrough of smaller wheel diameters and, hence, the bicycle in its present-day form.
Today's roads and available tires have improved immeasurably. And a few years ago, another giant step in tire development was taken when new, low-resistance, high-pressure balloon tires came onto the market. So it's only logical for us to use 20″ wheels.
Compared with back in the mid-19th century, roads are now quite a bit better, and 20″ wheels are lighter, more stable and more compact than 26″ or 28″ wheels. All this also means that bike frames can be designed to be lighter, more stable and more compact.
We fold things wherever it's practical to do so
The maintenance-free, shock-absorbed rear folding hinge means: the rear wheel swings around, and it rests on shock-absorbant polyurethane. So our folding technology is also used for shock absorption, and there's no hinge in the main part of the frame. This lets us achieve more stable riding characteristics, and it also looks great.
The exception is our LowStep Tandem, with its special, extra-solid hinge design. Its interlocking tabs, which run through the entire width, make for a large, frictionally engaged surface area capable of withstanding great forces wobble-free. This design is far more stable than that of traditional hinges, where the force is borne only by a single hinge axis. And it also makes it possible to stow the LowStep in the boot of a VW Golf.
Frame Geometry: Compact dimensions with stable riding characteristics
Building a bike with small wheels isn't difficult. The challenge is adapting the frame in such a way that it provides as safe and as assured a ride as does a large bike. We've taken on this challenge and made no compromises. And it shows: a Bernds bike is easy to ride hands-free. But we really shouldn't say that. Because in most places, at least, "Look, Ma, no hands!" is prohibited by law.
Custom dimensions by request – even the frame
We design and produce our steel frames in-house. We build them using steel of the highest quality, so they're light and durable. Doing things this way also allows us to build bikes according to people's individual body sizes.
All of our standard bikes are suitable for riders between 1.40 and 2.10 m tall. Our Folding Bike comes standard in three frame-lengths, while Gretel and the Pickup each come in two.
After all, for biking to be healthy, the ergonomics of it have to be right. And to this end, we also help our customers to arrive at the right choice for every component and accessory.
The ability to take your bike along on trains or in your car
We believe that a bike is even more useful if it's easy to take it along with you. Because you'll ride more if you can ride everywhere. That's what our customers say to us.
And whether it's in a tight train compartment or in your car's boot: it's in places like these that the compact dimensions of Bernds bikes shine to their fullest, because even when unfolded, they're that crucial bit more compact than classic 28″ bikes. And they're all the more so when you fold them.
The Bernds Folding Bike will fit in your car's boot even if it's a Smart you're driving. And a VW Golf can even take along one of our folding tandems in its boot, with no need to mount a bike rack.
In Germany, you can take your Bernds folding bike on all trains free of charge, even on the high-speed ICE. And our tandems, too—even unfolded—spare you the embarrassment of blocking others trying to get through. Since they're about ½ meter shorter than normal tandems, they'll fit into the standard bike racks on German InterCity and regional trains even when they're unfolded.